... questions from the
KQA
Collegiate Quiz that I had conducted for teams of three a Saturday ago on the 9th, at the Daly Memorial Hall. I'm posting a selection.
For the record, we had a pretty decent turnout, more than 25 teams if I'm not mistaken. The selection for the last team in the finals got a little hairy with some random rules like
"not more than two teams from the same college in the final and so on"
. While I don't really back such rules, I will admit that they do serve some purpose. An NLS team won, followed by an RVCE team which got pipped-to-the-post in a tie-breaker. IIM-B came in third.
I have to add that it's nice to see more women in quiz teams that qualify/win. I believe it's a good sign. No, I'm not being sidey. It's all for the greater good of quizzing. Because I think the "
babe theory of political movements
" applies well beyond political movements. But we shan't dwell on ideology now.
The questions follow. Send in answers. I'll post them sometime.
01.
Scotland did not make it to the last soccer world cup. However, many Scots, (including the 'Tartan Army') publicly backed another country. Possible reasons include the fact that this country was an underdog, and they would play England, who are the Scots' arch-rivals. Also, seven of the players in this country's national soccer team play in the Scottish Leagues. Which country?
02.
______ cinema is a term which Roger Ebert used to describe the movies which jump between several different unrelated stories that gradually connect to each other. Ebert claimed that the term originated with film critic Alissa Quart. Examples of such movies include Pulp Fiction, Crash and Syriana. Fill in the blank.
03.
______'s first break was in the Suneel Darshan hit Joru Ka Ghulam at the age of 14. _______'s breakthrough film was Chura Liya Hai Tumne in 2003. ______'s father (an ACP with the Mumbai Police) left home due to differences, and now lives alone in a Government apartment, due to differences over the choice of career. Sister Jaya acted in two films, before getting married. Brother Rakesh is awaiting the release of his debut, a career which _______ has funded. Mother Usha acted in one Gujarati film before she gave up acting at her husband's insistence. Who?
04.
The 2006 student protest in Chile was a series of ongoing protests carried out by high school students across Chile from late April to early June of 2006. The protests peaked on May 30 when 790,000 students adhered to strikes and marches throughout the country, becoming Chile's largest student demonstration of the past three decades and the first political crisis of president Michelle Bachelet's administration. This was known as the ______ revolution on account of the students' uniforms.
05.
What phenomenon is named after the Roman goddess of the dawn, and the Greek name for the north wind?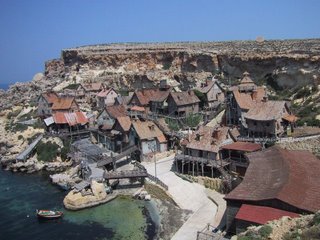 06.
This is a group of rustic and ramshackled wooden buildings located at Anchor Bay in the north-west corner of the Mediterranean island of Malta, two miles from the village of Mellieha. It was originally built as a film set for the production of the 1980 live-action musical feature film _______, produced by Paramount Pictures and Walt Disney Productions, and starring Robin Williams. Today it is open to the public as an open-air museum and family entertainment complex, and is a popular tourist destination. Which box-office flop?
07.
John Hertz commissioned a study in 1907 to find out which colour was easiest to spot among many _____. This study led to what convention?
08.
Pirates of the Caribbean III will feature, for the first time in the movie-series, Captain Jack Sparrow's father. Who has been persuaded to play the role of Sparrow's father?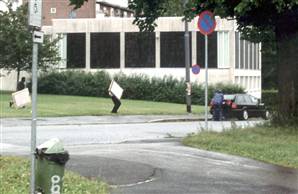 09.
This is a photograph of something that happened around a couple of years back. This incident was in the news again a few weeks ago. What incident?